Here are just some of our other specialties, as well as an inside view of our restaurant, that you can view at the moment.
Click on the desired photo to view it enlarged.
To view our pizza specialties pictures, please click the picture below. Thank You!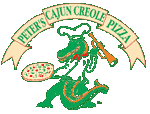 If at any time you wish to go back to the main menu, either click your browser's Back button or click Here.
These pictures are copyrighted by Peter's Cajun Pizza and are not allowed to be copied without the authorization of Peter's Cajun Pizza.