Peter's Cajun Creole Pizza
Working Hours
Mon-Fri 11:00am- 2:00am
Sat 4:00pm- 2:00am
Sun 4:00pm-12:00am
American Express and Visa Accepted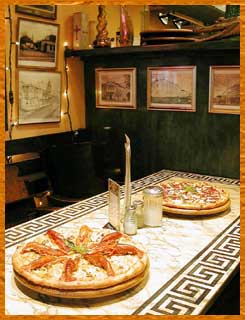 Gourmet Specials


Gourmet Specials consist of many different types of pizza's. There are: Margherita, Lucia, Bruschetta, Classico, Napoletana, Rustica, Primavera, Calabrese, Funghi e Formaggi, and Estate. All of these pizzas come in Small, Medium, Large, and Party Sizes.
To find out the specific prices of these sizes and to find out what each of these pizzas consist of, please visit our Menu page.
Thank You.
The next big focus is an another rock concert, performed by Najda, a member of a group called "SMAK"!!! Also one of the legendary groups of Serbian Rock...
Peter's Cajun Pizza is located on 181 Parliament St. (near Queen Street East)
If you require a map of this location please click on the Location button.
If you require to contact Peter's Cajun Pizza please call: (416) 368 8099 or send a fax to the same number.
To contact the webmaster of the website please send your e-mails to: Denis